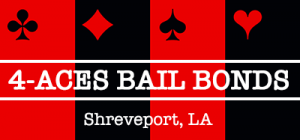 Bail Bonds Easy and Cheap

Shreveport is a city of people that work hard and play hard. So it's no surprise that bad things happen to good people in Shreveport Louisiana.
You never when a friend or family member may call your phone at 1 am to tell you they have been arrested. No need to worry because the amazing bail bond agents at 4 Aces Bail Bonds in Shreveport are here to help you.
Easy Payment Plans on all Bail Bonds
No hassle for any size Bail Bond
We treat you like family
We don't judge people
We understand this is a difficult time
Every person is innocent until proven guilty in a court of Law
4 Aces Bail Bonds is conveniently located in Shreveport Louisiana
4350 Greenwood Rd, Shreveport, LA 71109
Shreveport Drug Crime Bail Bond
Shreveport Felony Bail Bond
Shreveport Dui Bail Bond
Shreveport Capital Crime Bail Bond
Shreveport Jail Bail Bond
Don't let a family member sit in jail and rot away get them fast with 4 Aces Bail Bonds of Shreveport