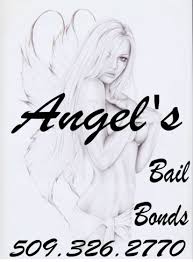 We all make mistakes, here at Angel's we understand
Lic#2015

Angle's Bail Bonds have been writing bail bonds for Washingtonians since 2009 and is female-owned and operated. Our agents are exceptionally knowledgable with the justice system and can answer any questions you may have. You don't have to be a client to call and get answers about bail bonds. Spokane is such a great place to raise a family or just to visit on vacation. There are so many lakes, rivers, and wineries to enjoy. If you find yourself in a situation with the police and are in need of a bondsman do not hesitate to call us 24 hours a day 7 days a week.
Angel's Service Area:
Spokane, WA Bail Bonds
Spokane Valley, WA Bail Bonds
Liberty Lake, WA Bail Bonds
Deer Park, WA Bail Bonds
Millwood, WA Bail Bonds
Washington State Bail Bonds
Airway Heights, WA Bail Bonds
Rockford WA, Bail Bonds
Angel's Bail Bonds accepts all credit cards, cash, checks, and wire transfers.
Types of Bail Bonds:
Disorderly Conduct Bail Bonds
DUI Bail Bonds
Domestic Violence Bail Bonds
Protesting Bail Bonds
Assault Bail Bonds
PCS Bail Bonds
Drug Trafficking Bail Bonds
Felony Bail Bonds
Misdemeanor Bail Bonds
Parole Bail Bonds
---
Angel's Bail Bonds Locations