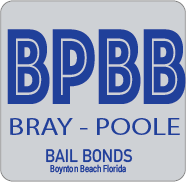 You Have Instant Credit at Bray-Poole Bail Bonds

At Bray – Poole Bail Bonds Our foremost goal is helping individuals get out of jail as quickly as possible because no one ever plans on going to jail in the first place.
We understand the great stress and confusion one goes through when hearing that a loved one has been arrested. How could this be? Why? What do I do? We can help answer all your questions. The customer service experience you can expect from Bray – Poole Bail Bonds is one of honesty and reliability. Wherever you are in south florida; Martin, St Lucie, Palm Beach, Broward or Dade we can help you today!
Our extensive experience as a liscensed bail bond agnecy allows us to handle all types of bonds from local county bonds to Nationwide and Federal Immigration bonds. When choosing Bray – Poole Bail Bonds take comfort in knowing we are a family owned business, as such we treat all our clients as if you were a member of our own family.