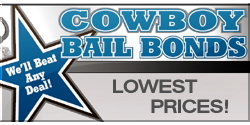 We'll Beat Any Deal!

San Antonio is one wild and fun city from the world-famous Riverwalk to the Spurs basketball team. San Antonio never sleeps and the same goes for Cowboy Bail Bond of San Antonio and throughout Texas. Cowboy Bail Bonds offers Easy Payment Plans on all Bail Bonds.
We will beat any deal you get from another Bail Bonding Company.
Cowboy Bail Bonds is one of the largest and most trusted Bail Bon agencies in San Antonio. Our offices are the most professional in Bexar County. Our Bondsman will give you free bail bond information, just give us a call.
Fastest Jail Release in San Antonio.
We have numerous offices around Texas:
San Antonio Texas Bail Bonds
Corpus Christi Texas Bail Bonds
New Braunfels Texas Bail Bonds
Lubbock Texas Bail Bonds
San Marcos Texas Bail Bonds
License #159